Threadwinder.info - Crocheted Needlework Tools
Many vintage needlework tools were made in the home: they include "make-do" pincushions made from broken wine glasses, embroidered linen bags and pincushions, wooden or basketry needlework cases/containers, wooden thread-spool holders, etc. During the Victorian era (roughly 1850s-1900) and into the early 1900s, it was popular for women to socialize while doing their needlework. And many homemade tools allowed the needleworker to show off her skills, beyond that of her current project. Crocheted needlework tools were a very special type of homemade tools, partially because crochet techniques were used in making almost all types of needlework tools or containers for those tools.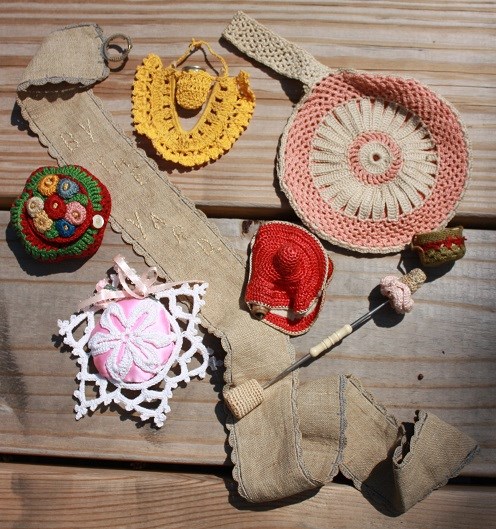 Shown here (diagonally from top left to bottom right) is an embroidered "By the Yard" linen yardstick holder, embellished with a crocheted edging. Continuing around clockwise from the top left, is: a yellow thimble-holder crocheted onto a chicken wishbone, a bubble-gum pink (a color which was most popular right after it's development in the 1930s) crochet thread holder, a red sombrero thimble-holder/needle-book (near the center and with thread spool tucked into the needlebook), a red &amp khaki tape-measure holder, two crochet-hook point-protectors on a double ended crochet hook, a pink satin and white crocheted pincushion, and a red &amp green &amp embellished with multi-color flowers (very 1930's colors), darning-thread holder.