Threadwinder.info - My Gem/Mineral Hunting Experiences:
VIRGINIA:
Hunting the ground at Fairy Stone State Park, in Stuart, VA. No tools allowed, but fairy stones (Staurolite crystals, sometimes cross-shaped) are found on the ground. Contact me for information on where to look. Digging/hunting at Earthen Paradise, in Prospect, VA., Where, during summer 2017, we looked for and found nice specimens of bright blue kyanite, and mauve-colored lepidolite. Gold also has been found at this site, but I did not spend much time looking for it. The temperature was in the mid-90s and very humid; fun anyway since the hunting is easy. I do plan to return in the Fall, when it will be more fun and when I will take photos. Digging and sluicing at Morefield Mine, Amelia Courthouse, VA. Here you pay an entrance fee, dig in the dirt piles (mostly brought up from the mines and dumped on the property) filling buckets, take your bucket to the sluice (a long trough with water running through it). Put dirt in screens and clean dirt off the rocks in troughs. Periodically, new dirt is brought up from the mines. Sluicing is always dirty work, some places are dirtier than others. It is very dirty work here, but you can find beautiful amazonite, quartz, amethyst, citrine, and other stones. This is probably the busiest public mine that I have visited, but it is the closest mine to my home and I have visited many times. It is good for children, but there is a slightly steep hill down to the mining area, making it not very accessible for unmobile people. Morefield Mine has been closed for a year or three now, but may reopen in Summer 2018---check the website or call before visiting.
NORTH CAROLINA: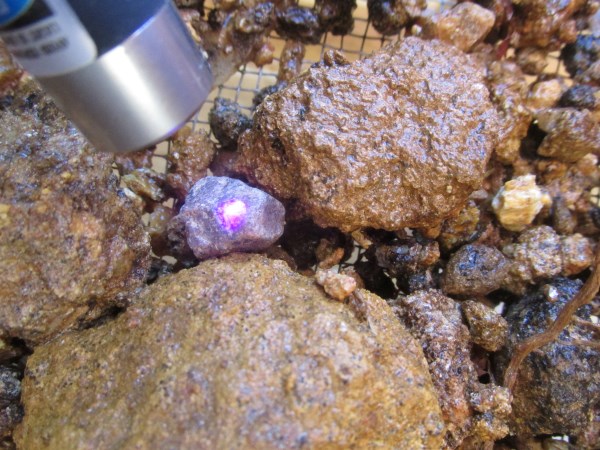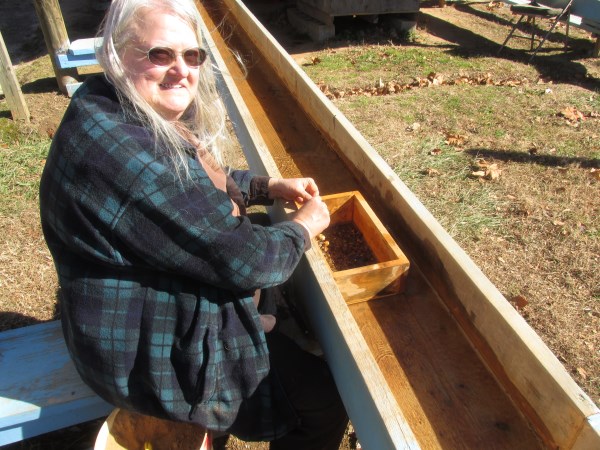 Sluicing at Cowee Mountain Ruby Min, Franklin, NC, and checking for rubies---they flouresce red in ultraviolet light. Here you can buy the contents of "native" buckets for sluicing. My husband and I found many large ruby and sapphires on this trip during late November 2014. (My largest sapphire crystal is 157.43 cts and my largest ruby 117.79 cts, however the Cowee Mountain Hall of Fame webpage makes these large stones look small!!!) This is gem-hunting at its easiest, great for children and elderly. This is a favorite mine. Sluicing at Elijah Mountain Gem Mine, Hendersonville, NC. Winter 2013, bought contents of enriched buckets for sluicing in-doors during a very cold winter. The water was piped from outdoors and was not heated. Did not find much and only would recommend this place for children. or someone who is desperate for a rock hunting fix while most fee mining places are closed. There is a small antique/thrift store and a goldfish pond on the premises and I understand that they now have a petting zoo.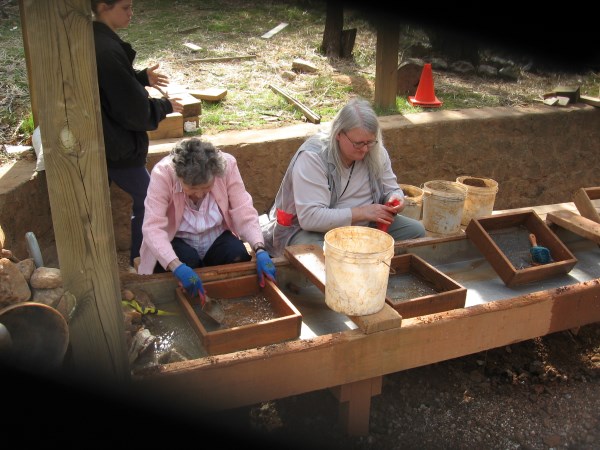 Sluicing at Emerald Hollow Mine, Hiddenite, NC. Here you can buy the contents of buckets for sluicing. You can buy "native" buckets or "enhanced" (salted) buckets. Sometimes the native buckets are good, but often have very little in them. If lucky you will find emerald, sapphire, ruby, amethyst, serpentine, topaz, or an extremely rare hiddenite in them. The enhanced buckets always have gemstones or minerals. You can also dig in the creek (reportedly salted) or the ground at this mine. This was a good place to take my then 92-year old mother-in-law sluicing and it is also a good place for children to sluice or dig in the creek. Mine hunting and sluicing at Gem Mountain, Spruce Mountain, NC.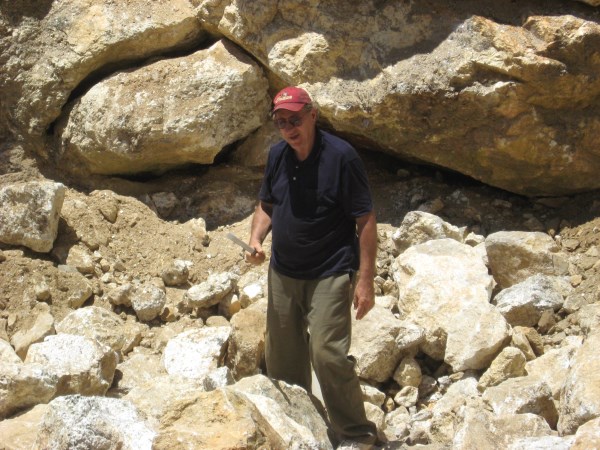 Here you can buy the contents of buckets and sluice. You can buy many types of different enriched buckets. This is the least dirty sluicing I have ever done. I think their sluices are much less leaky than all the others I have visited and their buckets seem to be packed with sand or white dirt, rather than red dirt. This is a great place for children or the elderly to sluice. You also can pay to visit one of their mines. The day we went to Bushy Creek Mine was extremely hot (around 100*F) and it was hard climbing on the blasted boulders loosely piled on top of each other. Not a good place for small children or very elderly. We found garnets, black tourmaline (schorl), specimen aquamarine crystals (6-sided), and a little bit of gemmy aquamarine and heliodore (yellow beryl). A nice haul. Digging and Sluicing at Mason's Ruby & Sapphire Mine, Franklin, NC. Here you pay an entrance fee to go to the old mica backpiles, dig dirt into buckets, carry the buckets to the sluice, and sluice them. The backpiles are gently sloped and this is a good place for children who do not need close supervision (not so good for the very elderly). I found a very nice pink sapphire crystal here. I will definately go back!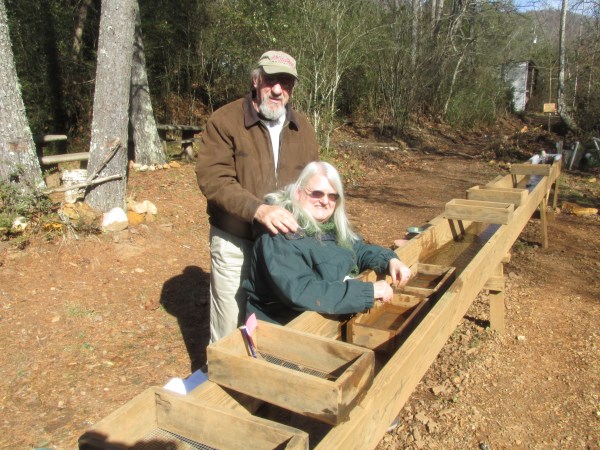 Sluicing at Old Cardinal Mine, Franklin, NC in Late November 2014. Here you can buy the contents of "native" buckets for sluicing. My husband and I found many large ruby and sapphires and a couple of quartz crystals here. The proprietress is friendly and helpful, easy gem-hunting, good for children and elderly. Although open in November 2014, the water was very cold; ice coated the faucet at the end of the sluice. Digging and sluicing at Old Pressley Mine, Canton, NC. Here you pay an entrance fee to dig in the backpile of a very large historic mica mine, fill your buckets, and carry to the sluice. You can find mostly blue sapphire and it is completely unsalted. Should be alright for older children not requiring much supervision, but too much work for the very elderly. We did not find much, but I just saw a Utube video in which they showed some lovelies. Perhaps this is worth visiting again in the future, but I may be too late--I hear that this mine has closed. Sluicing at Sheffield Mine, Franklin, NC. Paid for contents of buckets of native earth and found a few nice rubies. Also happened to be here at the right time to see snapping turtle hatchlings come from behind us to the pond in front of us---quite magical! They also have enriched buckets here and I understand they now provide the option to dig your own dirt. I will definately go back! I hear that this mine is for sale. Check on it before making a special trip there.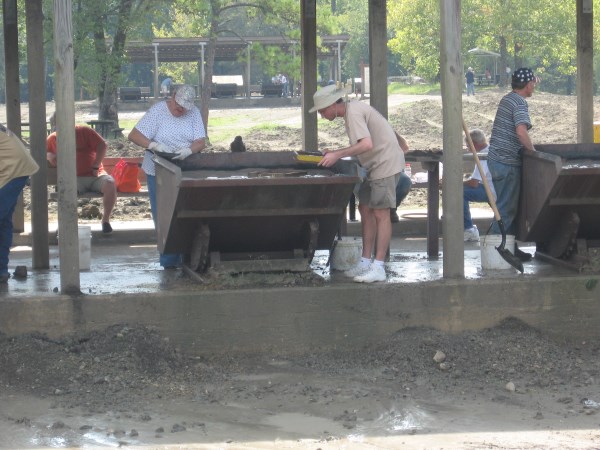 ARKANSAS:
Crater of Diamonds State Park, Murfreesboro, AR. Entrance fee and equipment rental. I have visited the park twice, and dug the "kimberlite" dirt into buckets, and screened (in big water containers, not a sluice). Haven't found any diamonds at the park yet, but found some quartz crystals and agate. However, I brought home some of the semi-cleaned dirt the last time and think I found some tiny chip diamonds. Very dirty, but good for children. too difficult for the very elderly.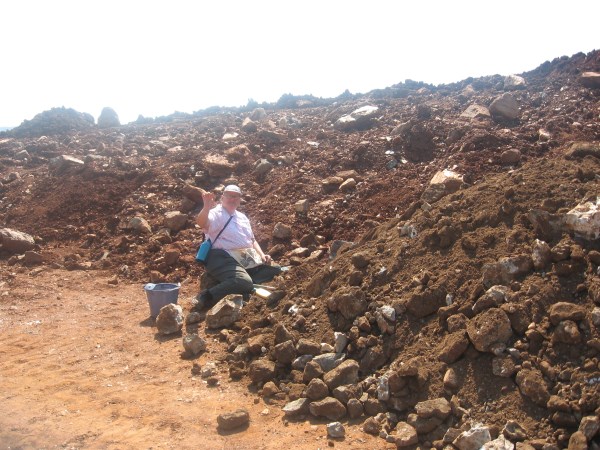 Various quartz sites in or near Mt. Ida, AR. This is becoming a tradition, whenever we go to AR. After many hours of finding little at the Crater, we need to reward ourselves by going somewhere where we know we will find some crystals. These places you either find the crystals just lying on the ground or you go where there are bigger crystals that you dry-dig from piles of earth (dug by excavators) from the mines. Very, very dirty. Some places are safer than others. Pictured is one of the safer places: Jim Coleman Mines in Jessieville, AR. Elderly collectors who do not mind getting dirty and "pebble-pup" children, who can be trusted to avoid unauthorized areas, should enjoy this mine.
MAINE: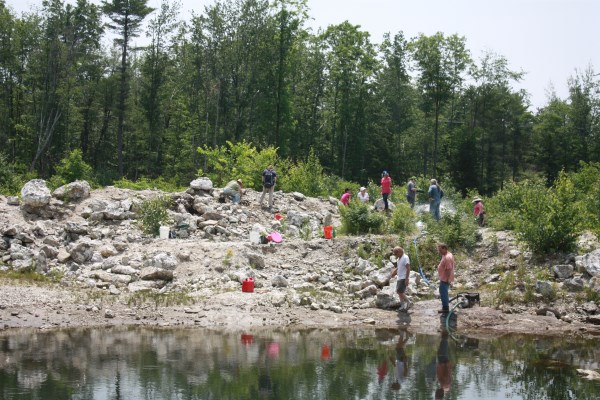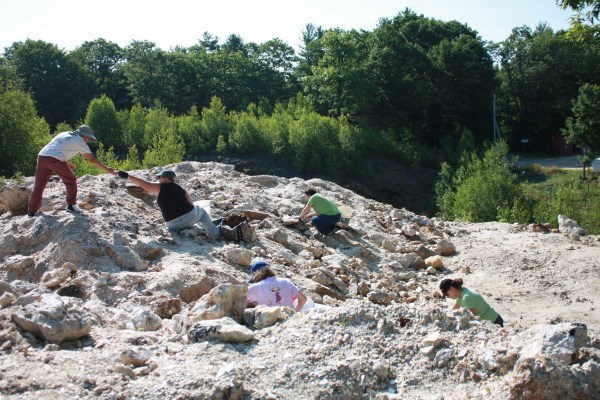 In July 2015, I joined Amy Katz's & Paulette Baron's Mining Women Bead Retreat at Poland Mining Camp, Poland, ME. (where the Poland Springs aquifer lies). During the day we dug at Mt. Mica and Mt. Apatite and during the evening we learned beading techniques---so much fun! At both mines we dug in the spoils bringing our finds back to the camp where we cleaned them up. We found mostly green tourmaline at these mines, but also other colors including blue indicolite, and some other gemstones and minerals.
NEW HAMPSHIRE: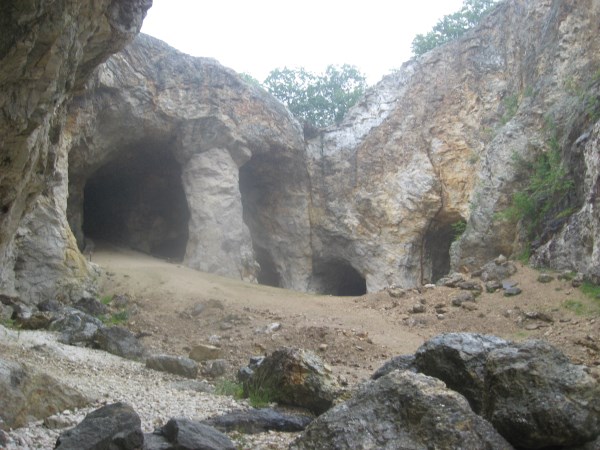 Ruggles Mine of Grafton, NH, was a fascinating, eerie-looking place. I found nothing. My husband found a little bit of black tourmaline crystal (aka: schorl). Good for children who do not need close supervision. Glad to have seen it, but I probably will not go back, especially since I just learned that it is now closed.
CONNECTICUT: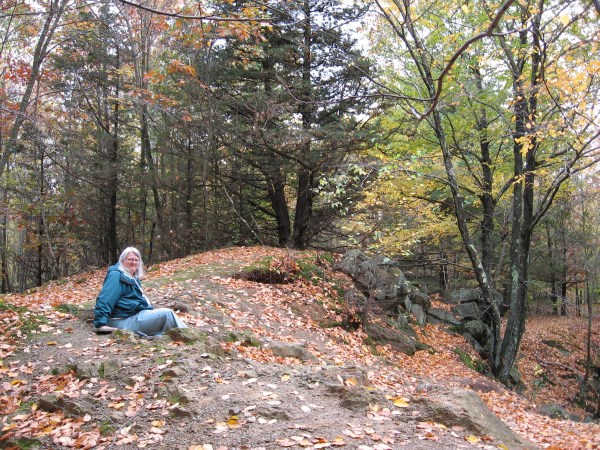 A place to collect Almandine garnet crystals from the ground and hillsides, in Roxbury, CT. Only the smaller crystals that we found appear to be gemmy, but garnets were plentiful. Unfortunately, no longer open to the public.
NOVA SCOTIA:
Beachcombing at Parrsboro beach, Nova Scotia. I found a beautiful chunk of what I believe to be bloodstone at this site. We did not have a lot of time here and I want to go back to this and other Nova Scotia rock sites where agate, amethyst and numerous fossils can be found.