Threadwinder.info - Free Flower Bangle Pattern
Copyright: Karen C.K. Ballard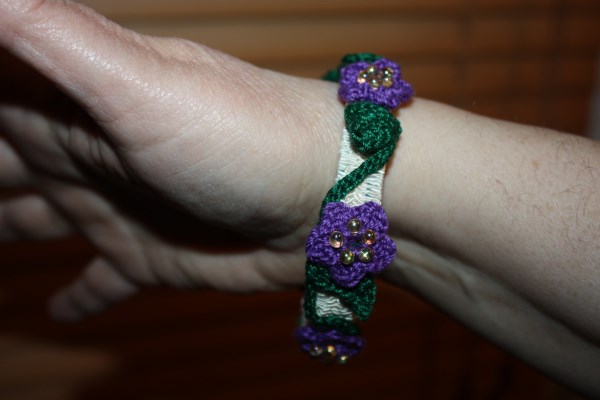 SUPPLIES:
2 30-oz Hellmans Mayonnaise 3-inch-diameter jar rings or any other 3-inch-diameter rings
<50 yards of Katia Syros (ball totals 306 yds/280m 50g/1.75oz) (45% Polyester/28% Cotton/27% Acrylic) ~size 10 ecru color #72 thread (for crocheting base color around rings)
<10 yards of Coats Opera (ball totals ~230m/50g) (100% Cotton) size 10 green color #584 thread
<5 yards of Coats & Clark Aunt Lydias (ball totals 320m/350yds) (100% Mercerized Cotton) size 10 Purple color thread
25 Miyuki magatama (drop fringe) beads, yellow rainbow AB #DP252
1 spool sewing thread matching green color
1 spool sewing thread matching purple color
Size 7 crochet hook
Tapestry/darning needle
Sewing needle
Gum Arabic
THE BASE BANGLE: Stack the 2 mayonnaise jar rings so that the rough sides are together. Feeding thread from the center of rings, (sc over the 1st ring and then sc over the 2nd ring, tightening the stitches so that they gather at the outside-center, between the rings --- one pair of scs made) repeat around, pushing stitches together after every 5 or 6 pairs of scs, until both rings covered densely (roughly 150 pairs of scs). Finish off, weaving in loose threads.

STEM: Ch 110, leaf (see below), sl st in next 110 chs (preferably in the bump), leaf, finish off, weave in loose threads.

LEAF: Ch 9, turn, sl st in 2nd ch, sc & hdc in next ch, hdc & dc in next ch, 2 dcs in next ch, dc, hdc, sc, sl st, turn to other side of foundation chain, sc & hdc in next ch, hdc & dc in next ch, 2 dcs in next ch, dc in next 2 chs, hdc, sc, sl st. Finish off and weave in ends. &nbsp &nbsp Note: The leaf directions can be varied somehat so all the leaves do not look exactly alike.

Make 4 unattached leaves, in addition to the 2 leaves attached to the stem. Artistically lay out and pin stem and leaves on the outside and edge of the bangle, remembering to visualize placement of 5 flowers. Once you like the layout, sew the stem and leaves to the bangle with green thread.

FLOWERS: Use gum Arabic to stiffen end of purple crochet thread. Once dry, cut a small piece off the end at an angle, forming a point; then string on 25 beads. Push 20 of the beads down. Tie 5 beads into a loose ring, 2 scs into ring between each of the beads, sl st in 1st sc, turn. *(sc, hdc, dc) in next sc, (hdc, sc, sl st) in next st,* repeat between asterisks 4 more times, finish off & weave in loose threads, pin to bangle.
Pull up next 5 beads, pushing down the remainder of the beads, for each of the remaining flowers.
Once all 5 flowers made, using purple sewing thread, sew flowers to bangle and over leaves and stems. Hide any remaining threads.